SERVICE ENTERPRISE INITIATIVE
---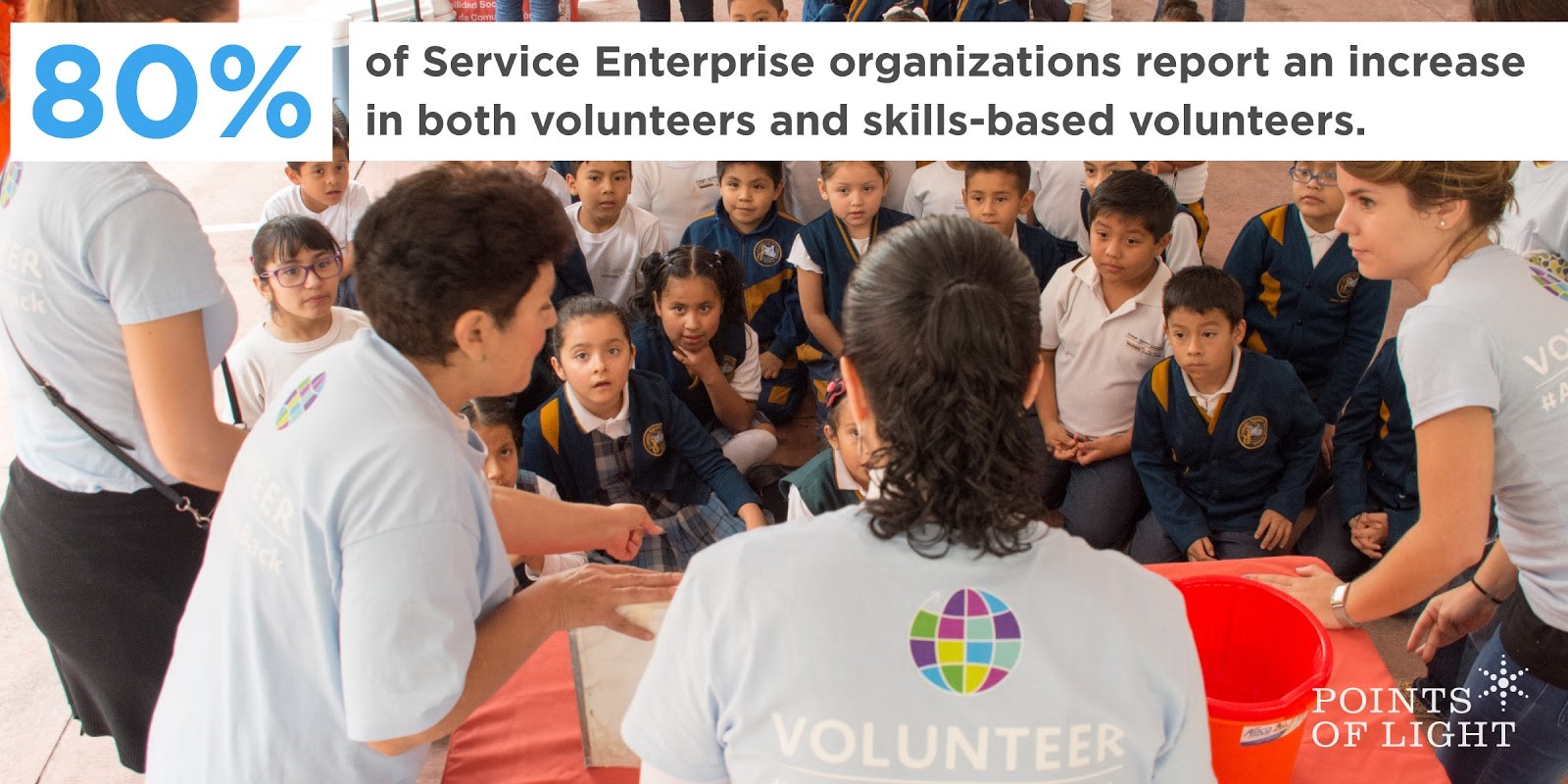 WHAT IS A SERVICE ENTERPRISE?
---
Service Enterprise is a national change management program that helps organizations gain a greater return on volunteer investment to better achieve their mission. The Community Foundation has partnered with Points of Light, the world's largest organization dedicated to volunteer service, to offer central Virginia region access to Service Enterprise.
Achieving Service Enterprise certification is a prestigious accomplishment for an organization. In fact, organizations that certify join the top 11 percent of nonprofits nationwide in volunteer management and organizational perfor mance. Certification signifies that organizations have the capability and management expertise to strategically use volunteers to improve the performance of their organization. By becoming a Service Enterprise, you will be uniquely positioned to engage the time and talent of volunteers to expand program operations and revenue, realize higher programmatic impact and better achieve your mission.
THE process and benefits
---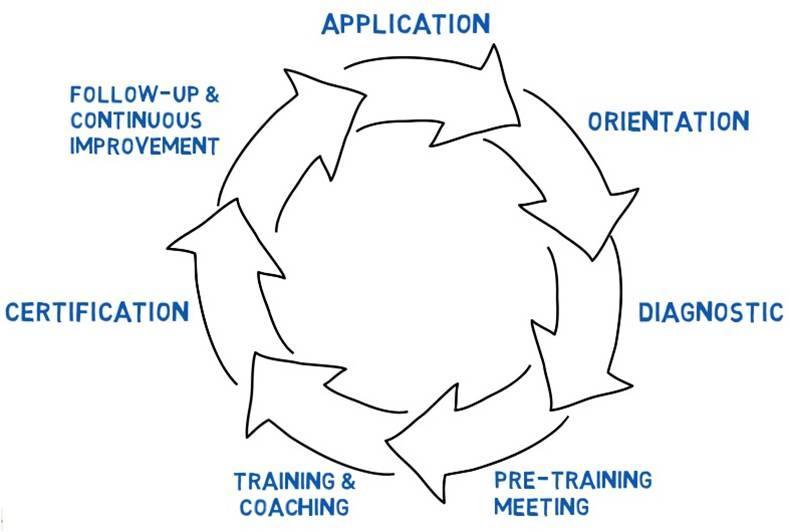 A COMPREHENSIVE DIAGNOSTIC
Organizations have access to the Service Enterprise Diagnostic, a thorough, research-based assessment of their existing volunteer engagement practices that informs their training and provides tailored recommendations for improvement.
VOLUNTEER ENGAGEMENT TRAINING
Organizations receive up to 16 hours of training focused on change management and volunteer engagement to help them transform and
reimagine how they currently engage volunteers.
COACHING
Organizations receive up to 10 hours of coaching to help them translate knowledge from the training into action for their organization.
CERTIFICATION
Organizations receive a designation signifying a commitment to leveraging the time and talent of volunteers to meet the organization's social mission.
A NETWORK OF PEERS
Organizations that join the Service Enterprise program will be able to network with each other, share best practices and provide peer-to-peer support.
RESEARCH AND RESOURCES
Organizations gain access to proprietary content and research, including a robust resource library with trends and reports about how best to engage and manage volunteers.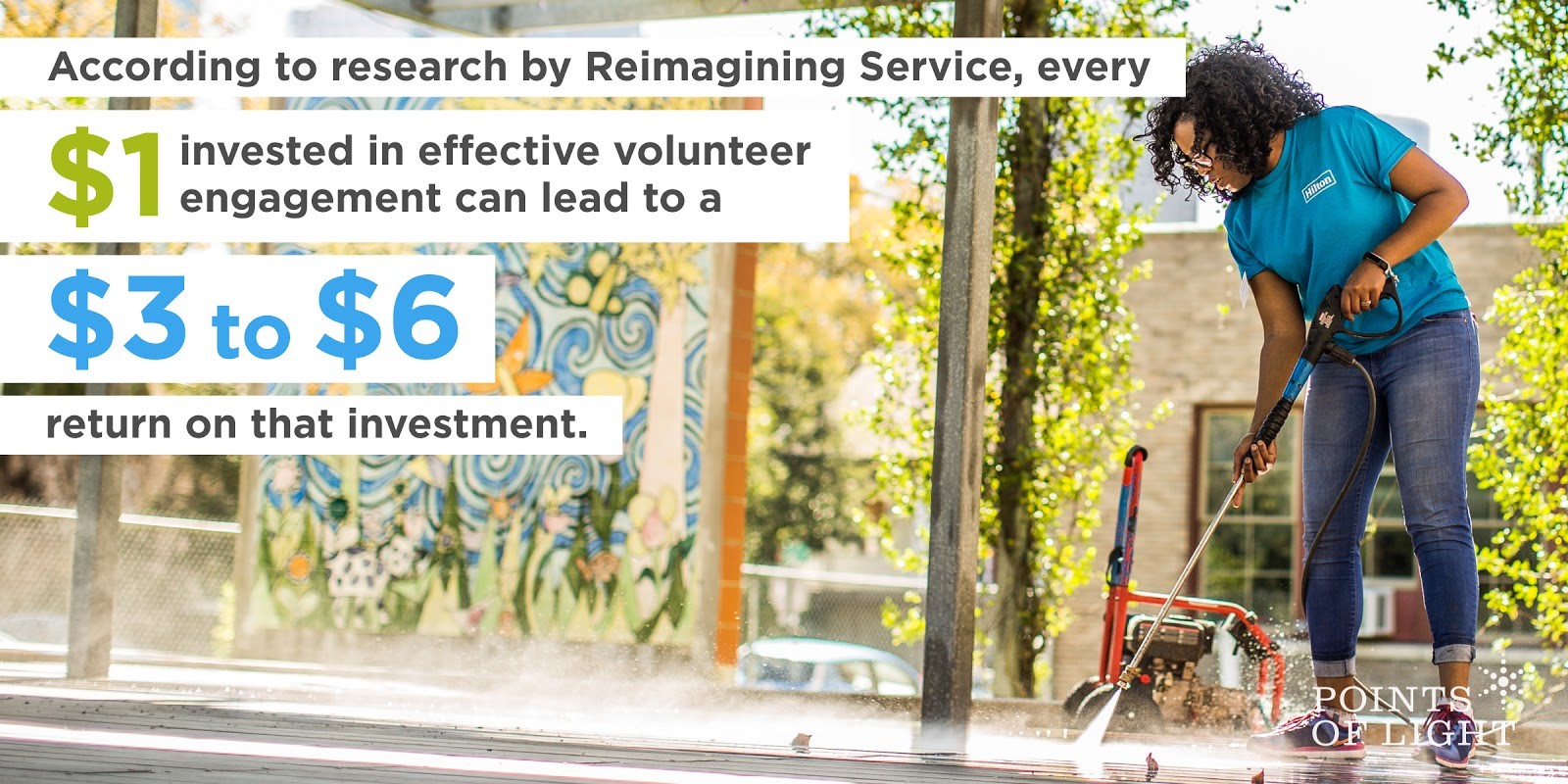 10 CHARACTERISTICS OF SERVICE ENTERPRISE
---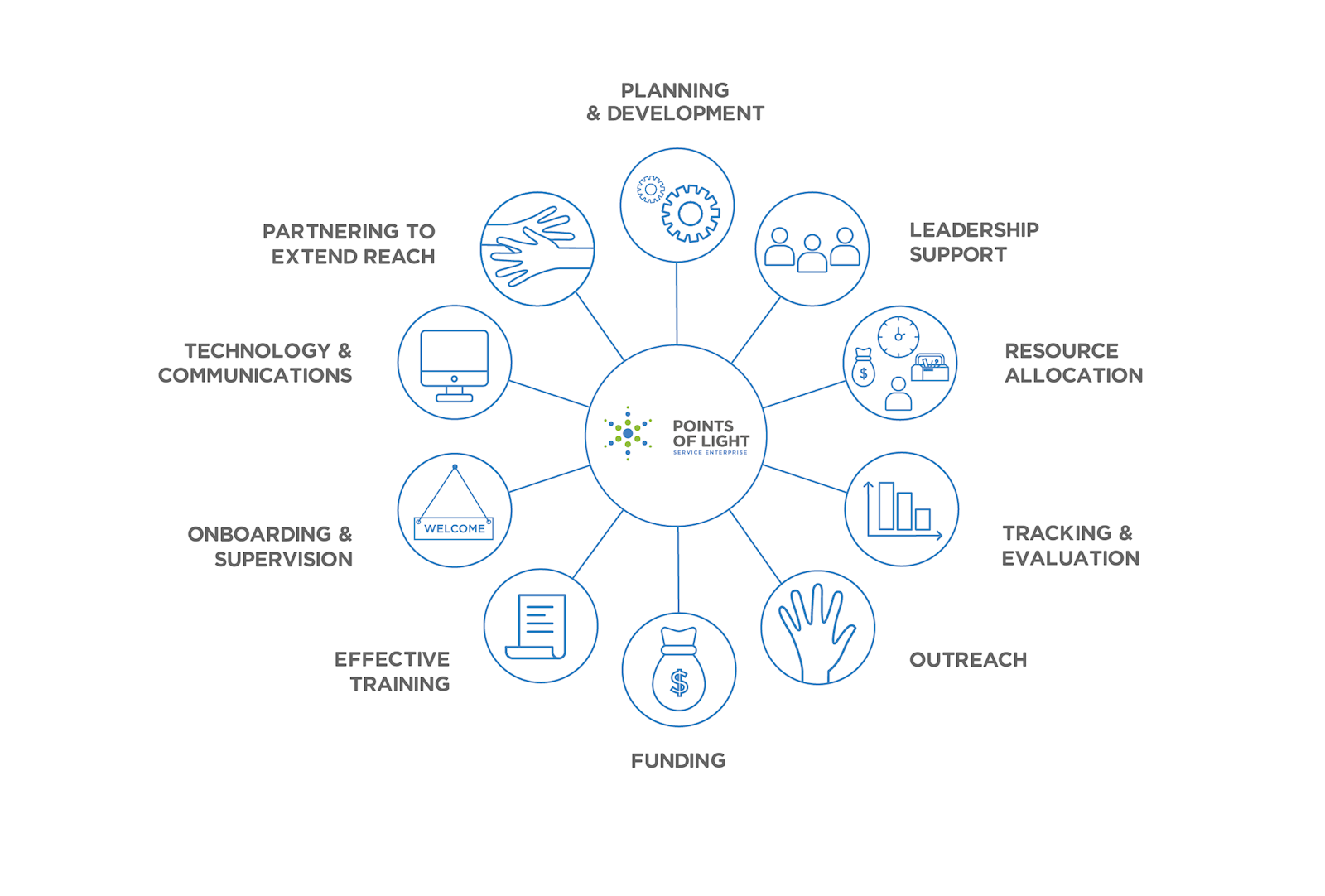 Planning and Development: Develop a Strategy and infrastructure for mission driven volunteer engagement.
Leadership Support: Demonstrate executive commitment to volunteer engagement.
Resource Allocation: Allocate sufficent resources to volunteer engagment.
Tracking and Evaluation: Determine service values, track volunteer retention, assess the quality of volunteer experiences, and monitor the outputs and outcomes of volunteers in meeting the mission of the organization through a volunteer tracking system.
Outreach: Conduct outreach and volunteer recruitment to sustain ongoing volunteer engagement.
Funding: Secure ongoing funding to support volunteer engagement.
Effective Training: Train volunteers and the employees that manage them, to effectively fill their positions.
On-boarding and Supervision: Match volunteers to appropriate positions, clarify roles, orienting and supporting them throughout their time with organization.
Technology and Communications: Implement supportive technology, invite dialogue with volunteers, and articulate volunteer contributions with the community.
Partnering to Extend Reach: Cultivate a participatory and mutually beneficial relationship with the community.



CERTIFIED ORGANIZATIONS IN CENTRAL VIRGINIA
---
---
| | |
| --- | --- |
| Peter Paul Development Center | Elk Hill |
| FeedMore | YMCA |
| CARITAS | Friends Association for Children |
| Shalom Farms | Goochland Cares |
| UMFS | Make-A-Wish Greater Virginia |
| Higher Achievement | Partnership for the Future |
| Children's Museum of Richmond | Communities In Schools of Richmond |
| Richmond Habitat for Humanity | ReEstablish Richmond |
| Soar 365 | Saint joseph's Villa |
| OAR of Richmond | |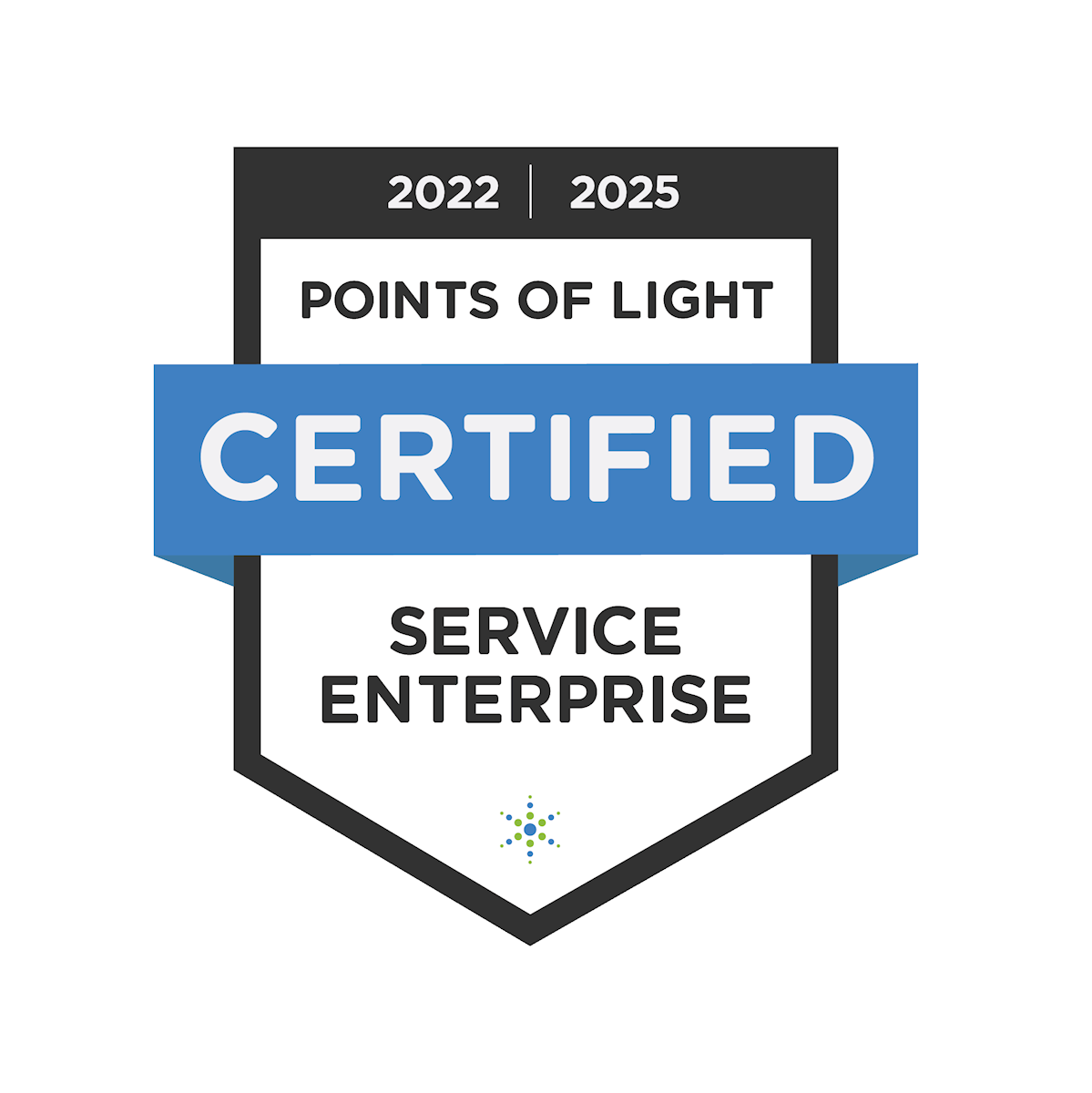 ARE YOU READY TO BECOME CERTIFIED?
---
If you feel like your organization can benefit from expanding its volunteering potential, email partners@handsonrva.org or visit Points of Light to get started.